In the News
December
18
Daily Holiday Activities
18th - 22nd
Junior Campus
20
Holiday Concert
Junior Campus
(Students & Staff only)
22
X-Mas Dance
at the morning bell
9:15 am
Junior Campus
25
Holiday Break
School & SEED daycare closed
January
8
School resumes
Welcome to St. John Fisher Elementary School!
St. John Fisher Elementary School has a Junior and Senior campus, both located in Pointe Claire, Québec. We are part of the Lester B. Pearson School Board.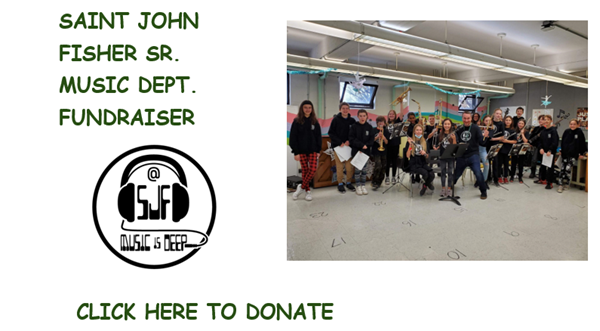 Want to help our music program and receive a tax credit?

As our music program continues to grow and flourish we recognize the importance of maintaining and updating our instruments and musical equipment. Instruments are expensive and so we can use your help! We've got a pretty good thing going here and with your help it can only get better! @SJF MUSIC IS DEEP!!!!
Congratulations to our talented SJFS students and a huge thank you to Miss Fabbro
and Mrs. Sulano for all of the hard work!
A huge thank you to Mr. Bolanis for the video!!
For the second year in a row, St. John Fisher Senior made it to the Top Ten for the CBC Music Class Challenge!
Congratulations to Mr. Arless and M. Victor and the students of SJF and the SJF Rock Band!!
Mission
"Making each child a success story"
Each student:
Will develop a desire for learning in a nurturing environment.

Will rise to their highest potential as innovative, productive, caring, creative and confident citizens of their global community.
Vision
"Students who will innovate our tomorrow"
Students will engage in authentic and relevant learning experiences through collaboration, creativity, communication, citizenship, critical thinking and character development.
School Hours
Junior Campus

Senior Campus

Senior yard supervision
as of 8:55 am

9:05 am

Morning Bell

9:00 am

9:15 am

Start of Day

9:05 am

11:15 - 11:35 am

Morning Recess

11:05 am

12:35 - 1:25 pm

Lunch

12:25 - 1:15 pm

2:25 - 2:45 pm

Afternoon Recess

1:15 pm

3:45 pm

End of Day

3:35 pm

3:55 pm

Bus Departure

3:45 pm